2019 CSPA Crown Presentations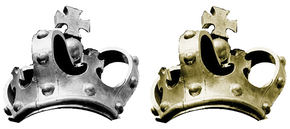 The CSPA is proud to present this year's Crown presentations. The judges of the Crown Awards chose three pages or spreads that reflected the high quality of their publications along with the comments from the judges of reasons why they received a Crown for 2019.
To view the list of schools Gold and Silver Crowns:
Scholastic Crowns
College Crowns
You may download the PDF publications, below are the links for the different presentations.
The CSPA presented its 2019 College Crowns on Friday, March 8 at the Marriott Marquis and its 2019 Scholastic Crowns on Friday March 22 at Columbia University.
Below are the PDFs presentations of the Crown publications by publication type. Each page is password protected, you will receive an email from CSPA with the password.
Middle School Crown Presentation
High School Magazine [print, digital & hybrid] Crown Presentation
High School News [digital & hybrid] Crown Presentation
High School News [print] Crown Presentation
High School Yearbook [hybrid] Crown Presentation
High School Yearbook [print A-R] Crown Presentation
High School Yearbook [print S-W] Crown Presentation
College Crown Presentation